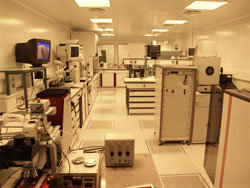 The clean room allows the realization of micro-sized and nanoscale circuits for microfluidic and/or optoelectronics applications. This platform includes equipments allowing thin films deposition, photolithography, dry and wet etching and metrology. To control the technological processes, the materials characterization platform could be used at each step as well as for analysis of the final device.

The cleanroom is 100 m² large, class of 10 000 .
Three main technological steps are used to produce components: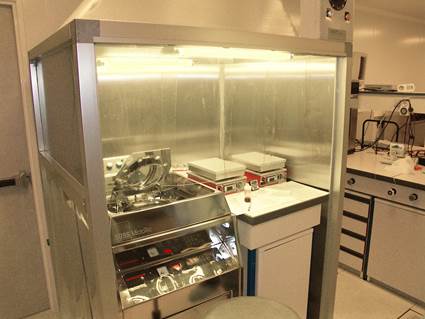 Thin film deposition by spin-coating and dip-coating methods, evaporation and sputtering (PVD).
The patterning of thin films by photolithography, wet and dry etching.
Metrology by profilometry and microscopy.

The platform provides technical support to users and training on the different equipments depending on the technological steps to be used in the research project.
The equipments of the clean room contribute to the realization of collaborative projects within the institutes, or with collaborators at University Paris-Saclay.

Collaborative projects involving outer public / private partners for the realization of research projects or technological steps are also performed, within the framework of industrial or public contracts (IEF, LAC, IGR, EDF, EADS, LNE, Centrale Supélec, Paris university 13 Villetaneuse)