D'Alembert Institute has suitable equipments for studies on animal and human cells and pathogenic microorganisms available to all researchers of the site. The entire system consists in three laboratories of safety culture P2 and a high security lab (P3). The latter aims to meet the legal and technic requirements for handling genetically modified organisms or pathogens hazardous to the environment or public health.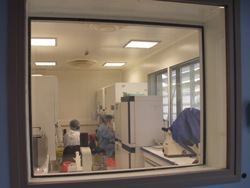 Two security labs P2 are dedicated to the culture of human cell lines. They each include 3 independent workstations. Le the third lab type P2 hosts the confocal microscopy platform. It fits out with a security post microbiological and is intended for fluorescence imaging of living cells.
The high security lab P3 is a structure for the handling of pathogenic microorganisms without risk to the environment. This lab provides to d'Alembert IFR teams the opportunity to implement projects involving culture of infected cells, viral production and transgenesis of eukaryotic cells. The P3 lab is in the new building of d'Alembert Institute. It covers 60m² and has two independent lobes enabling the reception of different pathogens. The access to the high security lab is dependent to the individual courtesy issued by the accountant of the department after training and education. The P3 lab of the Institute works as a local platform of production of viral vectors for fundamental studies conducted by public and private teams.

Among those programs, some are devoted to the progress of gene transfer and genetic therapy for clinical purpose in the context of European Network of Excellence CliniGene2. Two complementary lines are in particular expanded: security and targeting vector integration and transcriptional targeting of reverse and lentiviral vectors for gene transfer.