The facilities of the d'Alembert Institute were grouped on 6 platforms to facilitate their accessibility.

Their vocation is to contribute to interdisciplinary research in the areas of biophotonics imaging, chemical and biological sensors, microfluidics and design of multifunctional materials and nanomaterials.

Some of these devices are intended to be open to outside researchers either through collaborations or directly. The access modalities have to be defined case by case.

Access to equipment is subject to authorization given by researchers or engineers in charge of it (see pages dedicated to each equipment).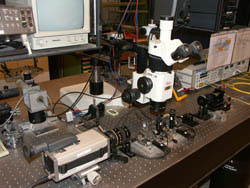 Platform for testing optical components