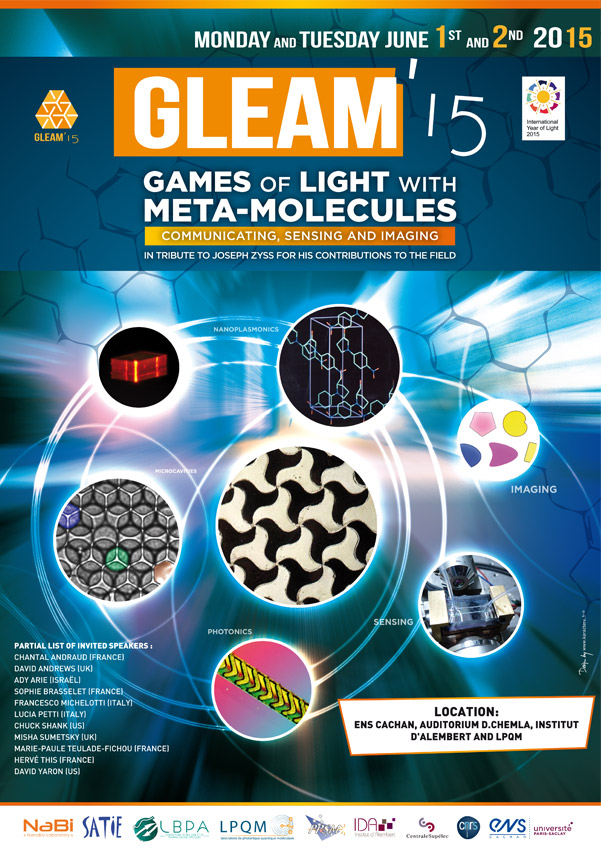 Recent developments in molecular photonics are increasingly crossing the frontiers between small molecules and nano-objects, between nano-objects and materials, between materials and devices.
Light is now considered, not only as a fantastic probe of a wide range of inorganic, organic and biological structures, but also as an active tool to pattern various objects from the nano- to the macroscopic scales, or to control their physical, chemical and biological properties towards essential applications in the domain or communication or human health.
This Conference will highlight these aspects in a widely pluri-disciplinary spirit where the various topics to be addressed will act as road-crossing nodes between molecular photonics and related activities in chemistry, biology and information technologies.
The main headlines of the Conferences sessions will be focused on Nano-imaging, nano NLO and nanoplasmonics, microcavities, devices and molecular engineering for photonics and biophotonics. Communication will cover a wide range of approaches, from theoretical models to end-user applications.
As a founding-director of both LPQM (1998-2005) and Institut d'Alembert (2002-2013), as well as a pionneer of molecular NLO, this conference is dedicated to Joseph Zyss, who celebrates his 65th birthday this year and becomes an emeritus This conference reflects his vision, and he will share with the audience his views on the current and future evolutions of molecular and bio-photonics.