Summary
Pneumococcus (PN) is a commensal bacterium of the nasopharynx, responsible for invasive infections and the main agent of community bacterial meningitis. The emergence of multi-antibiotic resistant PN strains requires the development of new infection control strategies. In this context, nanodiamonds (NDs) have received increased attention in recent years due to their promising biomedical and antimicrobial properties. In PNEUMONANODIAMS, we propose to characterize the anti-bacterial activity of NDs towards PN. We will functionalize NDs with ligands that target PN and test their ability to prevent the growth of bacteria and adhesion to endothelial cells.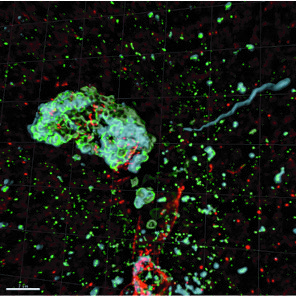 PN microcolony in the cerebral cortex.
3D reconstruction of plans by confocal microscopy of a slice of the brain of an infected mouse after intravenous injection of PN. Green fluorescent immunolabelling: PN capsule; red: vascular endothelium; gray: GFAP (glial fibrillary acid protein). Scale bar = 7 m.