aide
---
Recherche - Valorisation
Understanding the fundamental mechanisms of biofilms development and dispersal: BIAM (Biofilm Intensity and Architecture Measurement), a new tool for studying biofilms as a function of their architecture and fluorescence intensity
Baudin, M., Cinquin, B., Sclavi, B., Pareau, D., & Lopes, F. (2017). Journal of Microbiological Methods.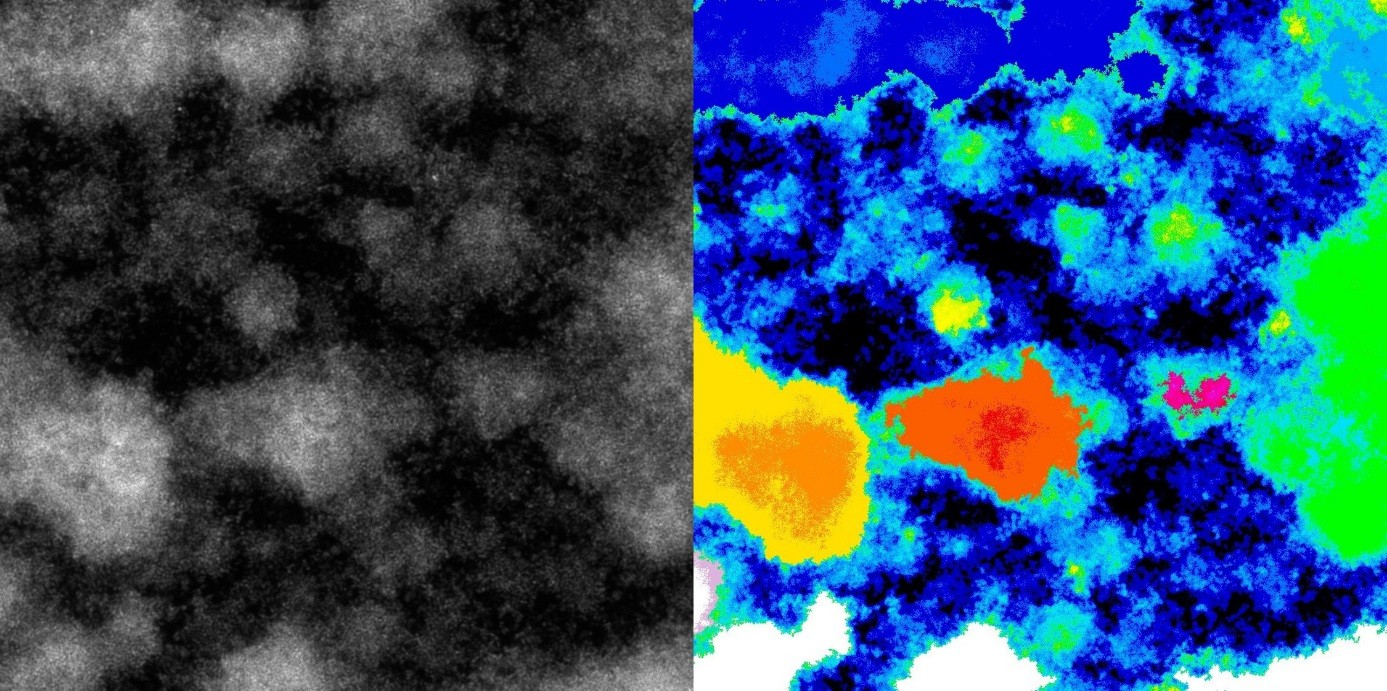 2D Projection view of a 3D acquisition for a biofilm before segmentation
(GFP fluorescence) and after BIAM segmentation: each
subregion of the biofilm is color-coded.
We present a tool developed in ImageJ that can be used to extract both structural and fluorescence intensity from CLSM data: BIAM (Biofilm Intensity and Architecture Measurement). This is of utmost significance when studying the fundamental mechanisms of biofilm development or when aiming to understand the effect of external molecules on biofilm phenotypes. In order to provide an example of the potential of such a tool in this study we focused on biofilm dispersion. Cis-2-decenoic acid (CDA) is a molecule known to induce biofilm dispersion of multiple bacterial species. We used a reporter strain of Escherichia coli (E. coli) that expresses the GFPmut2 protein under control of the rrnBP1 promoter. Analysis done with BIAM, indicates that CDA affects the fluorescence intensity of the biofilm structures and its architecture. Indeed, our results demonstrate that CDA removes more than 35 % of biofilm biovolume
and suggest that it results in an increase of 26% of the biofilm's mean fluorescence intensity.
---